Summary of activities 2010-2011
"(1) Organize a series of topical workshops for consortium participants with heavy emphasis on Spanish participation to show-case Spanish research on the topic"
The following activities were carried out:
L4H Event 2011: Light for Neurology and Neurosciences & Light for Oncology
The L4H Event took place last May 30-31, 2011, the theme was "Spotlight on Neurology, Neuroscience & Oncology"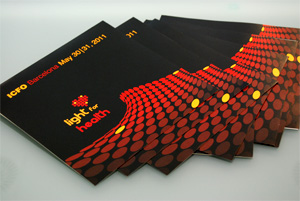 On the 30-31 May 2011, ICFO hosted the second Light for Health (L4H) as part of their Light for Health focus program. This years the spotlight was on Photonics applied to Neurology and Neuroscience, & Oncology, covering clinical, translational, and fundamental research and development.
Over 150 participants, from hospitals, healthcare centres, biomedical research centres, as well as universities and industry, came together to share their experience and knowledge in pushing the limits of biophotonics. The event provided a forum for participants, which included ICFO's local cluster partners and other international collaborators, to report and learn about the latest research developments in advanced imaging techniques and in applying photonic sciences to oncology, neurology, and neuroscience. During the two-day event 13 internationally-renowned speakers presented the opportunities and challenges for these fields. Invited speakers included: Jochen Feldmann from Ludwig Maximilian University, Munich, David Boas, Massachusetts General Hospital & Harvard Medical School, Boston, John Detre from the University of Pennsylvania; Clare Elwell from University College London, Thomas Misgeld from the Technical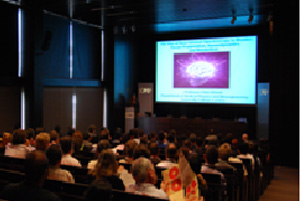 University of Munich, and Romain Quidant from ICFO, among others. Topics ranged from: diffuse optics and near infrared spectroscopy as clinical tools; the role of optics in brain activation energetic; monitoring of tumour resistance to pharmacological treatment; to nanoplasmonics for early diagnosis and cancer treatment; and single-molecule imaging.
ICFO will continue to develop this series of meetings. This year's event will be held in Barcelona on the 21st September 2012.
We have also organized a series of seminars which were introduced through this promotional activity:
L4H seminars 2011:
2011/12/14 'Optical Investigation of Neocortical Circuits with Structured Light Illumination by Phase Modulation'
TOMMASO FELLIN
Department of Neuroscience and Brain Technologies
Istituto Italiano di Tecnologia, Genova, ITALY
2011/11/30   'Optical Microscopy with Nanoscale Resolution'
EVA RITTWEGER
Max Planck Institute for Biophysical Chemistry, Göttingen, GERMANY
2011/11/04   'Syndromes and Mechanisms of Autoimmune Synaptic Encephalitides'
JOSEP DALMAU
ICREA Research Professor at IDIBAPS, Hospital Clínic, University of Barcelona, SPAIN, and
Adjunct Professor of Neurology, University of Pennsylvania, Philadelphia, UNITED STATES
2011/11/02  'Dual-Beam Laser Traps in Biology and Medicine – When One Beam Is Not Enough'
JOCHEN GUCK
Department of Physics, Cavendish Laboratory
University of Cambridge, UNITED KINGDOM
2011/10/03   'Illuminating Biomedical Discovery with Advanced Photonic Imaging'

VASILIS NTZIACHRISTOS
Helmholtz Zentrum München
Institute of Biologial and Medical Imaging, GERMANY
2011/07/20  'In vivo small animal imaging using an all-optical photoacoustic scanner'
JAN LAUFER
Dept. Medical Physics and Bioengineering
University College London, UNITED KINGDOM
2011/07/11  'Photonics Tools for Single Molecule Biophysics'
ALEKSANDRA RADENOVIC
EPFL – STI/SV – IBI – LBEN, Lausanne, SWITZERLAND
2011/07/06  'Singlet Oxygen in Photobiology: from Basic Science to Applications in Photodynamic Therapy'
SANTIAGO NONELL
Molecular Engineering Group
IQS – Universitat Ramon Llull, Barcelona, SPAIN
2011/06/28  'The Persistence of Memory: Two-Photon Imaging Reveals how Synapses Learn and Remember in Real Time'
MIQUEL BOSCH
The Picower Institute for Learning and Memory Department of Brain and Cognitive Sciences
Massachusetts Institute of Technology, Cambridge, UNITED STATES
2011/06/22  'Optical Imaging of Cerebral Blood Flow'
ANDREW DUNN
Biomedical Engineering Department
University of Texas at Austin, UNITES STATES
2011/05/18  'In vivo optical molecular imaging closer to clinical'
ANABELA DA SILVA
Institut Fresnel, Marseille, FRANCE
2011/05/04  'Of Mice and Men: Adventures in Optical Imaging'
HAMID DEHGHANI
MIPEM, School of Computer Science
University of Birmingham, UNITED KINGDOM
2011/04/20  'Quantitative static and dynamic imaging with photoactivatable fluorescence'
SULIANA MANLEY
École Polytechnique Fédérale de Lausanne
Institute of Physics of Biological Systems, SWITZERLAND
2011/04/13  'Making Light Work in Microscopy'
TONY WILSON
Department of Engineering Science
University of Oxford, UNITED KINGDOM
2011/04/06  'Experiments on Patterned Neuronal Networks. Probing Cultures to Understand Brain Complexity'
JORDI SORIANO FRADERA
Neurophysics Lab
Universitat de Barcelona, SPAIN
2011/03/23  'Unveiling Physics in Biology by Optical Manipulation of Single Molecules'
RICARDO ARIAS-GONZÁLEZ
IMDEA Nanociencia and Centro Nacional de Biotecnología (CSIC), Madrid, SPAIN
2011/03/21  'Cancer Screening and Surveillance with Optical Coherence Tomography'
BRETT BOUMA
Massachusetts Institute of Technology, Cambridge, UNITED STATES
2011/03/09  'Membrane Curvature Controls Lipid Microdomain Formation and Protein Localization in Bacteria'
DOUGLAS WEIBEL
Department of Biochemistry
University of Wisconsin-Madison, USA
2011/02/28  'Diffuse optical spectroscopy with very high collection efficiency'
MARTIN B. van der MARK
Philips Research Europe, Eindhoven, THE NETHERLANDS
2011/02/23  'Measuring Brain Tissue Energy Metabolism Using Light'
ILIAS TACHTSIDIS
Department of Medical Physics and Bioengineering
University College London, UNITED KINGDOM
2011/02/09  'Single-Molecule Localization Methods for Super-Resolution Fluorescence Microscopy'
MARK BATES
Department of NanoBiophotonics
Max Planck Institute for Biophysical Chemistry, Goettingen, GERMANY
2011/01/26  'Imaging the Dynamics of Morphogenesis: from Dynamic to Static, from Hi-Res to Low'
JAMES SHARPE,  EMBL-CRG Systems Biology Program, Barcelona, SPAIN
"(2) Produce webinars or online conferences (for the BP4L members) where scientists developing biophotonics tools as well as clinicians and biomedical researchers who collaborate with them will give 30-60 minute long seminars and tutorials that will be recorded and made available publicly; "
We are working on building the infrastructure for further development of this topic. Two of our researchers have delivered lectures that are available online:
BP4L Webinar: "Bed-side, Neuro-intensive Care (NICU) Monitoring of Cerebral Hemodynamics with Hybrid Diffuse Optics", Turgut Durduran, Ph.D., 14 Feb 2011; http://www.biophotonicsworld.org/events/172-bp-l-webinar-bed-side-neuro-intensive-care-nicu-monitoring-of-cerebral-hemodynamics-with-hybrid-diffuse-optics-
TEDxBarcelona – Melike Lakadamyali – Capturing life's processes with light ;